100500 lifes? It's easy! Kitchen Finks and Melira will help you. You also can find here everything you should know about Infect and something about layers, counters and unpayable costs.
Just like any other lady Melira hates standing by a girl in the same dress. I mean that she is a creature affected by a so called "Legend rule": you can't control two or more legendary permanents with the same name. You must choose one of them and put others into the graveyard.
Before we proceed with Melira's rules text I'd like to leave our fair lady for a bit and refresh the meaning of a keyword ability called
Infect
Infect is a static ability that modifies the outcome of the damage dealing event from a source with Infect. So, a creature with Infect deals damage:
to players in form of poison counters;
to creatures in form of -1/-1 counters;
to planeswalkers… the regular way — removing the loyalty counters.
With the exception that a player doesn't lose life and creatures don't get damage marked on them (and isn't removed during cleanup step or regeneration), nothing changes about the damage:
damage stays either combat or noncombat;
the number of counters is equal to the damage dealt;
this damage can be prevented or redirected;
triggered or static abilities that care about the damaging events still trigger or work.
Now, the time to read Melira's text box has come. Let's start from the end.
Creatures your opponents control lose infect.
This is the effect that removes abilities, we discussed this type of effects with Turn to Frog.
If a creature has Infect in its text then it doesn't matter whether it entered the battlefield before or after Melira did. It loses Infect anyway.
A creature that gained Infect as a result of copying or text-changing effect also loses it because Melira's effect lies on the Layer 6 while copying effect and text-changing effect lie on the Layers 1 and 3 respectively. The details of the layer system are here.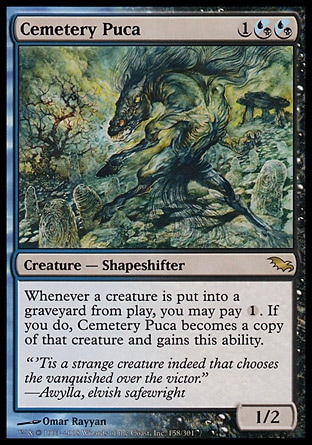 If there are two or more effects that add or remove the abilities, the one with the most recent time stamp "wins".
So, if Melira is on the battlefield, it doesn't necessarily mean that creatures your opponents control can't have Infect.
You can't get poison counters
Poison counters are place on a player. If an opponent has 10 or more poison counters (or 15 for a 2HG team) he or she (or that team) loses the game.
Melira's effect says that while she's on the battlefield under your control the poison counters can't be placed on you. This means that:
Parts of the effects that put poison counters are ignored:
If a creature with Infect deals damage to you, you don't lose life (because the creature has Infect) and don't get poison counters (because Melira forbids it). Any abilities that check if the damage was dealt register this damage nevertheless.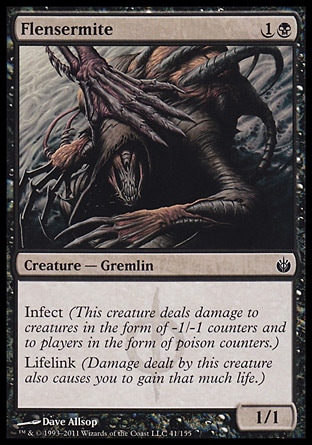 If an opponent's Flensermite somehow keeps Infect, then the damage it deals won't change anything for you, but its controller will gain 1 life.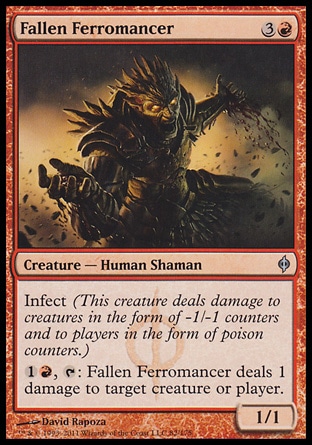 A "ping" from Fallen Ferromancer with Infect won't change your life total or the amount of poison counters, but it will allow its controller to get 3 counters for Bloodlord of Vaasgoth. Cool, isn't it?
An additional note for those who love Two-Headed Giant variant. Despite that when combat damage is distributed the attacking team chooses which head gets what, Melira's ability will affect the entire team, because poison counters is a shared resource. Thus, an effect that states that one head can't get poison counters is applied to the other head as well. With -1/-1 counters it's totally different. Each head controls its own permanents independently, so your Melira won't save your partner's creatures from -1/-1 counters.
Back to the game and let's talk about -1/-1 counters.
Creatures you control can't have -1/-1 counters placed on them.
Things happen the similar way as with the poison counters:
Part of the effects that would place -1/-1 counter on your creatures is ignored:
Note that while instructions of the effect that can't be complete are simply ignored, we can't pay the casting or activation costs by performing the forbidden actions:
The damage dealt by creatures with Wither or Infect don't place -1/-1 counters nor are marked on the creatures. Abilities that check whether the damage was actually dealt still register that damage.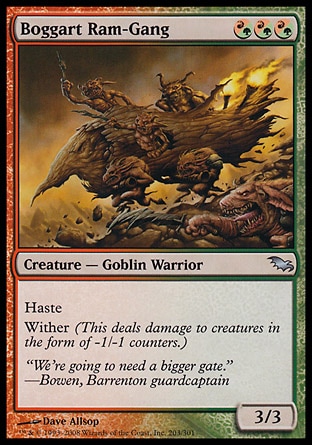 Naturally, Melira doesn't remove -1/-1 counters that your creatures already have.
That's it! After all, Melira doesn't really do anything spectacular, so I bail leaving a few bonuses for you!
Bonus for the curious:
Bonus for the rules freaks:
If you know what SBA are you'd notice one of them that refers to removing the counters of certain types if their number exceeds a particular maximum value. Why doesn't Melira remove the -1/-1 counters from the creatures you control then? It's due to the wording of Melira's ability: "Creatures you control can't have -1/-1 counters placed on them". It refers to the events of placing a counter on your creatures that are already on the battlefield or on the creatures entering the battlefield with an effect that modifies how it enters the battlefield (CR 121.6). So, Melira's effect doesn't state that your creature can't have -1/-1 counters, they just can't get additional ones while the effect exists.
---
Translated by Witas Spasovski