This time we'll talk about colors of Magic, loops and interaction of Grindstone and Painter's Servant.
I personally recall the anecdote about a programmer and a can of shampoo, and I also remember how many times I've been asked about Grindstone and a particular Progenitus, two Progenituses, three Progenituses…
It's actually a piece of cake. (c)
Okay, let's look at the text. The first thing we should see there is the colon which indicates that this is an activated ability. Which means,
we can activate it any time we have priority;

As long as Grindstone isn't a creature, its abilities may be activated regardless of how long it has been under your control. If you have heard something about summoning sickness, but do not quite understand what it is all about, you need to read about it in detail.

the ability that's already on the stack (i.e. an already activated one) does not depend on its source;

It is pointless to "remove" Grindstone in response to its ability being activated, that alone won't change anything in the ability's fate. You should remove the other card in the combo, but we'll get to it later.

its is only effective when it resolves.

Finally, in order to get an ability effect, you need to resolve it. If it gets countered (Disallow), nothing happens.
The second thing we need to see is the word "target" in the ability text which informs us that the ability is targeted. In fact, it targets a player. The target is chosen when the ability is activated. It must be legal both when it is chosen and when the ability is resolving. If it isn't true, in the first case (activation) the game is rewound back to the moment when you are about to activate it, mana sources untap, and you get a punishment corresponding to the REL of the event. In Competitive events that would be a Warning. In the second case (the target is illegal at resolution) the ability doesn't resolve due to having lost its only target. They call that "fizzle" in Magic slang.
You already know that this Planeswalker can turn artifacts into creatures. Once this happens to Grindstone, it begins to matter how long you have controlled it. It may so happen that its ability may not be activated.
If you control Runed Halo with Grindstone called for it, the opponent won't be able to target you with Grindstone's ability.
Alright, we activated the ability and it lived till its resolution. That's when we are supposed to perform the actions instructed by the effect. These are putting two cards from target player's library into his or her graveyard. What do we do if there is just one card? Nothing special, we perform the effect as fully as possible, in this case it will be putting one card into the graveyard.
Some cards really don't like to go into graveyards, such as… Progenitus!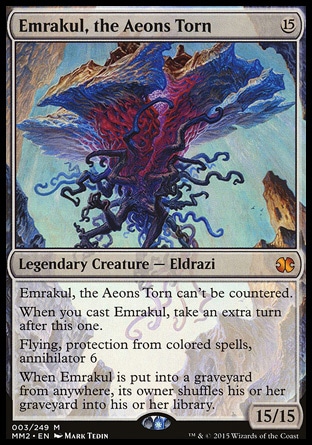 Unlike the Progenitus, Emrakul has a triggered ability which goes off when she hits the graveyard. In our case that is while Grindstone's ability is resolving. After it finishes resolving, Emrakul's trigger goes on the stack and it may be responded to. When the trigger resolves, the entire graveyard will be shuffled into the library.
Let's carry on performing the effect. We need to see whether the milled cards share a color… Now, we need to make a full stop here.
---
Color
Color is object's characteristics. There are only five colors in Magic: blue, red, green, white and black. Objects can have multiple colors or have none. If the card has blue and white colors, it is white and blue, but but not red, not black and not green. The most common mistake to consider it like "blue-white". This color no such color in Magic. "Colorless", obviously, is not a color. That word just says that object has no color at all.
How do we determine a card's color? There are just three ways:
By the color of mana in the card's mana cost.
By the color indicator in the type line.
By an effect granting the card a color.
---
I hope it is clear about the color now. Let's consider comparing colors.
Grindstone and Painter's Servant
Cards that share a color must at least have a color. If either or both of the compared cards are colorless, it is pretty obvious they cannot share a color. Even in a mono-colored deck, any land will stop the process. That's where Painter's Servant comes to aid.
Thus, if two cards from the first part of the effect share at least one color, the process is repeated: we mill two cards again and compare the colors. This continues as long as the condition is met each time.
If a Painter's Servant is on the battlefield, any two cards will share at least one color — the one chosen for Painter's Servant. That means, the target player's entire library will be put into his graveyard, unless:
Painter's Servant gets gripped in response to activating Grindstone's ability.
The opponent's deck contains a problem card. We'll discuss these problem cards below.
From now on, we suppose Painter's Servant is on the battlefield.
One Progenitus
Two Progenituses
Leyline of the Void
Let's have big time fun: add a Leyline of the Void to the battlefield and see what we get.
A few more notorious situations with Grindstone
Some music to conclude:
"Back to the Grindstone"
---
⇑ A replacement effect is easily recognized by the word "instead".
Translated by Witas Spasovski