Let us set for a long Journey to Nyx, now that there's Kruphix there with two intriguing abilities.
We've already talked about Theran gods when we met Thassa. Kruphix has the same characteristics as Thassa in terms of supertype, type and subtype, Indestructibility and Devotion, with an interesting point of difference: Kruphix is concerned with your devotion to not one but two colors. In short, you need to count all the mana symbols in the mana costs of the permanents you control that are green or blue. If a mana symbol represents both blue and green mana, it counts only once.
Now on to the point.
You have no maximum hand size.
This means that you don't have to discard cards during cleanup step on your turn no matter how many you have in hand.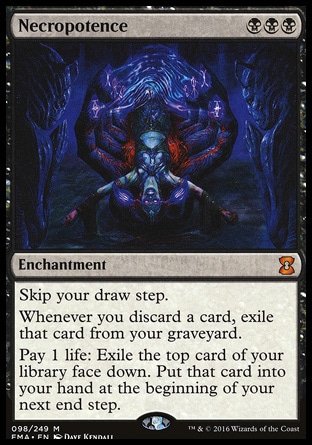 Should multiple objects limiting your hand size be present on the battlefield at the same time, the effect with the latest time stamp applies.
If unused mana would empty from your mana pool, that mana becomes colorless instead.
As you probably already know, unused mana empties from mana pools at the end of each step or phase. Some time ago it caused loss of life, but not anymore.
This ability says that mana does not empty as usual but becomes colorless.
All of Kruphix's abilities are static abilities, they have effect only for as long as Kruphix remains on the battlefield. So if you hoard up a lot of mana (colorless) and Kruphix leaves the battlefield, then at the end of the current step or phase your mana pool will empty as usual. If another Kruphix comes into play by that time, his ability will come into effect immediately and the mana won't vanish.
Lastly, all mana gathered and discolored by Kruphix keeps all its properties. It doesn't matter whether you are going to spend it right away or use it on your next turn.
---
Translated by Arman Gabbasov