Thassa God of the Sea helps us to understand devotion mechanic and a keyword action named Scry.
The gods had a habit of going round to atheists' houses and smashing their windows
The Colour of Magic by Terry Pratchett
Thassa, God of the Sea has two card types: Creature and Enchantment. While this is unusual, it is not ground breaking. In fact, if you cast your minds back to the Future Sight block, Tarmogoyf's old friend, Lucent Liminid was both a Creature and an Enchantment.
Thassa may exist on the battlefield as an enchantment or may incarnate and become a creature. For Thassa to incarnate and "become" a creature (and the keep Enchantment type all at the same time) it requires a players Devotion to be 5 or greater (so pretty much like any other deity). However, Thassa differs from the cycle of Licids because she doesn't lose any abilities when she becomes a creature.
Thassa has a single creature type — God. Before the arrival of Theros, there was no creature with the subtype God. So what does this new God type do? Well, the thing to remember here is that God is just like any other creature type, it doesn't grant a creature any abilities. While the cycle of Theros Gods share the Indestructible static ability, it doesn't mean that an animated Mutavault will gain the ability Indestructible (an animated Mutavault has all creature types including God).
How do you do battle with the hostile Gods of Theros?
Thassa, God of the Sea has the supretype Legendary. While this supertype has been around for a while and is well-known, the Legend rules were changed with the release of Magic 2014. So, if you have just returned to Magic the Gathering after a long absence then you should probably click on the link we have provided for you and get up to speed. If you are not keen on clicking on the link dont worry, we have provided you with an abridged version.
Its actually pretty straight forward, in that both you and your opponents can control the same God at the same time e.g. Anthony Hopkins controls Thassa, God of the Sea and Nicolas Cage also controls his very own Thassa, God of the Sea and both Gods are on the battlefield at the same time (that's right folks). If Anthony Hopkins decides to add another Thassa to the battlefield he must decide whether the his new Thassa stays or if the old one does, its that simple. Now that you are all up to speed on the new Legend Rule its time to look at the mechanic of Devotion.
Devotion
700.5. A player's devotion to [color] is equal to the number of mana symbols of that color among the mana costs of permanents that player controls.
A player's devotion to [color 1] and [color 2] is equal to the number of mana symbols among the mana costs of permanents that player controls that are [color 1], [color 2], or both colors.
To calculate your devotion to a certain color (the five colours of Magic are White, Blue, Black, Red and Green), you need to look at the mana cost of each permanent you control (located in the top right hand corner). If those mana costs contain coloured mana symbols then your devotion to a specific colour is equal to the amount of mana symbols for that colour among permanents you control. If a permanent has 1 or more hybrid mana symbols it increases your Devotion by 1 for both colours of the symbol.
Devotion to couple colors isn't a sum of Devotions to each of colors. Boros Reckoner increases Devotion to red and white by 3, not by 6, since total number of mana symbols which are both red and white is 3.
Some permanents don't have a mana cost and will therefore not increase your devotion.
Less obvious things happen if you play unusual cards.
So, the thing to remember about devotion is that it is a conditional static ability which affects the Theros Gods on the battlefield. When your devotion reaches the appropriate value (in Thassa's case its 5) the Gods incarnate and become creatures while maintaining the card type Enchantment. If your devotion falls below the specified value they are just Enchantments. But how does the game handle devotion in the other zones? Well, devotion is not a characteristic defining ability so it will only function on the battlefield. In every other zone, the Gods of Theros are considered creature cards and enchantment cards.
Thassa, God of the Sea herself has one blue mana symbol in the mana cost, so if it's on the battlefield under your control, your devotion to blue is at least one.
В зависимости от того, чему равна ваша Преданность синему, выход Тассы на поле битвы может привести к разным последствиям: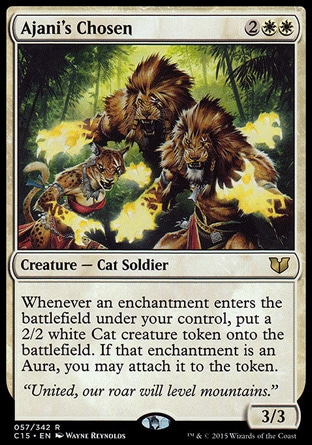 If another Thassa enters the battlefield under your control, you'll need to choose one and put it into the graveyard. This may cause your devotion to drop below 5 and the second Thassa immediately ceases to be a creature.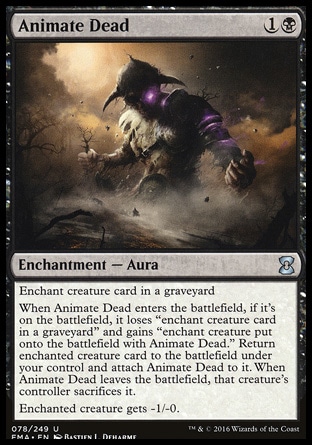 If a creature-Thassa is put into the graveyard from the battlefield, abilities that check for a creature leaving the battlefield will trigger, regardless of what happens after that. Thassa will be considered as a creature that died for Morbid.
If Thassa is not a creature, she has no power or toughness. She cannot be enchanted by Auras with enchant creature, she also can't have Equipments attached to it.
Thassa stops being a creature as soon as your devotion to blue drops below five. The next time state-based actions are performed any Equipment or Auras with enchant creature become unattached. Auras then go to the graveyard and the Equipments remain on the battlefield. If Thassa had counters while she was a creature those counters (like +1/+1 counters) will not fall off if she becomes an Enchantment. They simply remain on Thassa but have no effect.
Sometimes Thassa may stop being a creature and reincarnate again before the SBA are performed. In this case Auras and Equipments will stay attached to her.
If Thassa is an attacking or blocking creature and your Devotion to blue drops below 5, Thassa stops being a creature and is removed from combat. Please note that the creature she was blocking remains blocked. Furthermore, if Thassa becomes an enchantment and then re-incarnates during the resolution of an instant or an ability she is not removed from combat. However, once Thassa is removed from combat she cannot re-enter it even if she incarnates again before combat is completed.
If Thassa is a creature, you may assign her to attack or activate her abilities that have a tap or untap symbol in activation cost only if you controlled her continuously since the beginning of your last turn. It doesn't matter for the summoning sickness if Thassa stops being a creature for a while or incarnates again. For the game it is only important that the object has been under control of the same player since the beginning of his or her last turn.
Thassa has no innate abilities that have a tap or untap symbol in the cost, but she can obtain some thanks to the effects such as Flame Fusillade.
Thassa's third ability is a triggered ability. "At the beginning…" clause gives us a clue. This ability triggers as soon as your upkeep starts. If you happen to skip upkeep the ability never triggers. If you have two upkeep steps in the row (thanks to the Paradox Haze), the ability triggers twice per turn.
When the ability resolves you may scry 1.
Scry
Scry is a keyword action that means the following:
701.18a To "scry N" means to look at the top N cards of your library, put any number of them on the bottom of your library in any order, and put the rest on top of your library in any order.
For example, if you scry 3, you can look at the top 3 cards of your library, choose zero, one, two or three cards and put them on the bottom of the library in any order. The remaining cards (3, 2, 1, or none) are put on top of your library in any order. Simply put, scry allows you to set the order of cards that you find useful (so that you can draw them) or to send them to the bottom of your library in the hope that you will draw something better.
Thassa's triggered ability allows you to scry 1, i.e. look at the top card of your library and either leave it there or put it on the bottom. Cool, isn't it? Especially considering that Thassa's ability resolves during your upkeep, right before you draw a card for the turn.
Thassa's last ability is an activated one. You may activate it any time you have priority and as many times as you like as long as you pay its cost. This ability has a target and the target is chosen after the ability has been announced and before costs are paid. Please note that your target must be legal (in this case a creature you control), the usual rules of target legality apply.
If the ability resolves successfully, the targeted creature cannot be blocked this turn. This effect doesn't grant a creature any abilities but rather it changes the rules of the game. This means that no matter how many times an opponent casts Turn (or any other spell removing abilities from a creature) targeting our creature it still cannot be blocked.
If the creature changes the controller unblockable effect will still affect the creature. However, in most cases this is irrelevant as whenever control of a creature changes it is immediately removed from combat. Being unblockable isn't very valuable for a blocker.
So enjoy Thassa, God of the Sea art and a little background information in the official hitchhiker's planeswalker's guide to Theros.
---
⇑ Devotion is a very close relative to Chroma ability word.
⇑ However, its mana value is calculated using the mana cost of its front face.
⇑ This is not a state-based action. The game doesn't need to wait in order to perform this action. It is performed immediately. In our situation right in the middle of Cloudshift resolving.
Translated by Witas Spasovski