Today we shall have a very peaceful return to Ravnica.
Rest in Peace is a regular enchantment. When the Rest in Peace spell reolves, a new permanent enters the battlefield and remains there until an effect or game rule moves it to another zone.
Rest in Peace's first ability is triggered, which is made clear by the word "When". Its triggering event is Rest in Peace entering the battlefield, which may happen when the RIP spell resolves, as well as by an effect putting it directly onto the battlefield:
After SBA are performed the trigger will go onto the stack. If it lives till its resolution (Disallow is lurking as you know), we get its effect: all cards from all graveyards are moved to the exile zone face up.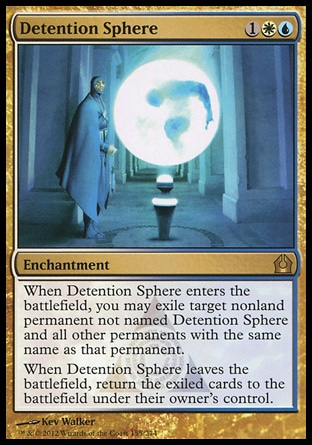 Rest in Peace' second ability is static. Many newbies take it for triggered and attempt to put it onto the stack. That's wrong. Static abilities do not use the stack. Look closely at its text:
If a card or token would be put into a graveyard from anywhere, exile it instead.
It contains the word "if", but no "when", "whenever" or "at" which would signal a trigger.
However, the text contains another magical word, "instead". This signals that the ability generates a replacement effect. This effect lasts as long as RIP is on the battlefield and has that ability. The effect "tracks" the upcoming event of "sending a card or token to the graveyard" and replaces it with "exile". This means that not a single card or token actually enters the graveyard, they get exiled at once. Let's see what happens to different cards in some situations.
If a card would be discarded, i.e. moved from the hand to the graveyard, this card is moved to the exile zone instead through the replacement effect of RIP's ability.
As part of the cost of activating the Cycling ability, the player must discard the card with Cycling.
Abilities that trigger when cards are cycled (such as Astral Slide) do trigger.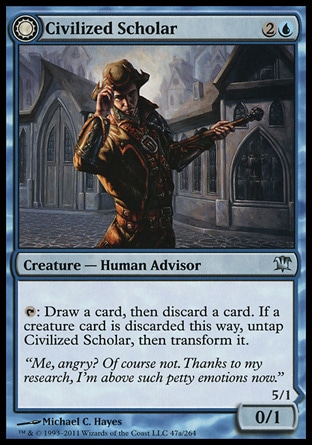 Since exile is an open zone and the card is exiled face up, all characteristics of the exiled card are known, so if a creature was exiled this way, we untap Civilized Scholar and transform it as if it were a normal discard.
Since cards (and tokens) do not hit the graveyard, no triggers related to that event can go off. The triggering event simply does not take place.
Note that
A creature "dies" if it has been put into a graveyard from the battlefield.
That means that if RIP is on the battlefield, no creatures can die because they will be moved to Exile.
Avoid confusing triggers with static abilities. If an object falls under multiple replacement effects simultaneously, its controller (or owner, if it doesn't have a controller) chooses the order in which to apply these effects:
The last thing we need to discuss is which cards go where when Rest in Peace is destroyed:
---
⇑ To mill is a slang expression meaning to "put a card from its owner's library into his or her graveyard".
⇑ Boros — combination of red and white colors. Owes its name to the namesake guild of Ravnica, the Boros Legion.
Translated by Witas Spasovski