Looking back to Magic2013, we can't omit an awesome reprint from there! This is a wonderful card whose text hypnotizes players to the point they see nothing other than "return Rancor to its owner's hand".
Rancor is an aura. It is an enchantment subtype that sets numerous conditions to its own very existence. I recommend reading about auras in general by taking Spirit Mantle as a muster before moving forward with Rancor.
Rancor has just three abilities.
Its first ability is specifically related to the Aura subtype. It is static and it tells us that only creatures may be enchanted by the Rancor permanent, and only creatures may be legal targets for the Rancor spell. It doesn't matter who controls the creature.
The second ability is also static. It modifies enchanted creature's characteristics and gives it Trample ability.
I already held a lecture on Trample in the article about Titans. Make sure you read it and refresh your knowledge (or learn something new). Today I want to remind you that tournament shortcuts have had the default assignment of "all extra damage" to the defending player or planeswalker under his or her control removed. As it's been a while since combat damage stopped going onto the stack, and, according to the tournament rules, players are supposed to declare any changes to life totals of either player outloud, the folks responsible for Magic tournament rules decided that this shortcut was outdated and removed it for good. What do we need to fear in connection with that?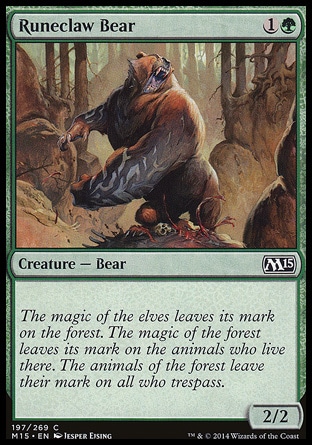 Rancor's third ability is a triggered ability. We can easily recognize it by the word "when". This ability triggers when Rancor is moved from the battlefield to the graveyard. When the ability resolves, Rancor is returned to its owner's hand if able.
Actually, this is where I would finish this article, but… alright, let us talk about a few fairly obvious things.
Rancor spell and illegal target
As all other spells, Rancor goes onto the stack. As part of the process of casting it, the player needs to announce a legal target. If by the time Rancor resolves the target becomes illegal (for instance, it was given protection from green or shroud; was bounced, exiled or destroyed), Rancor, being a spell with a single target, doen't resolve. This is called "fizzling" in game slang. Under normal conditions, the card goes to its owner's graveyard. Since the dislocation happens between the stack and the graveyard, it isn't the triggering event for Rancor's third ability, so it doesn't trigger!
Rancor put onto the battlefield not from the stack
If Rancor would be put onto the battlefield in some way different from resolving the Rancor spell, the player in control of it must choose a legal object to which the Rancor permanent would be attached. If no such object may be selected, Rancor remains in the zone where it was before this effect.
This means in particular that if there is one sole creature on the battlefield that Rancor could legally enchant, the player in control of Rancor must choose that creature, even if it is an opponent's Emrakul who is about to kill that player.
Also, Rancor may be attached to a creature with Shroud or Hexproof because the Rancor permanent doesn't target anything (if this sounds like a revelation to you, I feel obliged to send you to read the article on auras one more time).
Finally, when Rancor cannot be attached to anything on the battlefield, it isn't put there at all!
Rancor and Humility, or Layers again
---
⇑ You will not be able to choose the creature being put by the opponent through the same effect. Same as with Cloning, we choose the object to attach an aura to not when it is already on the battlefield, but at the exact moment when it is entering there. The card that enters the battlefield along with Rancor isn't on the battlefield at that moment.
Translated by Witas Spasovski