If multiple mountains enter the battlefield at the same time, your Valakut's ability will trigger for each of them, assuming there are 6 or more Mountains under your control now. why? Let's know it
As Valakut has no mana cost nor a color marker, it is colorless (and not red as some would falsely assume).
We don't see the "basic" sypertype in its type either, so — guess what — it is a nonbasic land, too. And despite being able to add red mana to your mana pool, thanks to its activated ability, it is not a Mountain, as it has no "Mountain" type.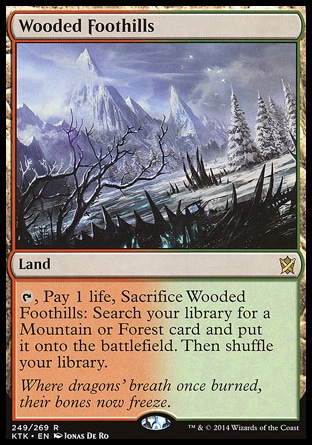 Wooded Foothills can't find Valakut, because it is not a Mountain.
Primeval Titan's triggered ability, on the other hand, can do that without a taking a sweat.
Regardless of how exactly Valakut is put into the battlefield, it does so tapped. It is so due to replacement effect that Valakut's ability creates: your regular standard "enters the battlefield" is replaced by "enters the battlefield tapped" .
To figure out which effects would affect a permanent entering the battlefield, we have to check the permanent's future abilities. We only take the following into account:
continuous effects that would affect a permanent entering the battlefield (Orb of Dreams);
the permanent's own static abilities (like the Valakut has)
and continuous effects that already exist and would apply to the permanent. (Blood Sun)
Speaking of types, let's see some examples:
Nevertheless, Valakut is a land, and thus is grounds for all rules regarding playing lands. Namely, under normal circumstances, you can play only one land per turn, and may play lands during your turns. There are effects that allow players to play additional lands during a turn, but they don't affect the timing restriction on playing lands. So, even if you are allowed to play a card during your opponent's turn, you can't play a land that way.
This lady on the battlefield under you control allows you to play three lands during your turn. Valakut is happy!
If you reveal a land this way, you only may play it if it is your turn and you haven't played a land this turn.
Valakut's second ability is triggered. Besides that, there is a condition in the ability text. That means, it will only trigger if the condition is met. Conditions are also checked on resolution of the ability, so, if the condition is not met, the ability will leave the stack having no effect.
When an effect references an object using its type or subtype and none of the following words — "card" , "spell" , "source" or "scheme" — is used, it means that it references a permanent of the mentioned type. If you look carefully at the Valakut's triggered ability, you can notice the "Mountain" word in its text, which is a land type. This means that the effect references land permanents with a "Mountain" type, regardless of whether they are basic or of their names.
Valakut's ability triggers off a Mountain entering the battlefield. This is called an EtB trigger. Such triggers are checked for all permanents in the battlefield, including freshly entering ones.
That would be all for today. Have fun!
---
⇑ Fetchland is a Magic neologism (slang) for the cycle of lands (Bad River, Wooded Foothills, Arid Mesa, etc) that first appeared in Mirage expansion. The cycle got a power-up in Onslaught and was expanded in Zendikar. You can sacrifice a fetchland to search for a land of certain type and put it to the battlefield. These lands do not have mana abilities of their own and don't produce mana unless some effect says otherwise. Sometimes the term is expanded to refer other lands that can find a land in your library — such as Terramorphic Expanse.
Translated by Alexey Rakhmanov