This peculiar Gatecrash card will refresh our knowledge of copy effects.
Thespian's Stage is a nonbasic land. It has no supertypes nor subtypes. Both of its abilities are activated, which is easy to determine by the colon in their texts. Thespian's Stage's controller may activate them any time he or she has priority, and it is absolutely irrelevant how long Thespian's Stage has been under that player's control.
The first ability is a mana ability. It doesn't use the stack and resolves immediately. It may also be activated without having priority, but only in case you need to pay a cost with mana, e.g. while a spell is being cast.
The second ability does go onto the stack after being activated. It is targeted. If the target becomes illegal on resolution, the ability is countered and nothing happens.
If the ability resolves safely, it generates a continuous effect without a duration period. It means it will be effective as long as Thespian's Stage remains on the battlefield, or until the game ends. Note that the effect does not technically end when the ability is activated again. There simply are multiple effects of the same kind that are applied on one layer, so they are applied according to timestamps.
Finally, the most interesting part: the copy effect. As soon as we talk about copy effects, we immediately turn to copiable values. For permanents, they are values printed on the object:
name (Thespian's Stage changes name when copying);
mana cost (if there is one, because that is pretty rare for a land);
color (if there is one; lands are normally colorless, but exceptions exist);
card type (all types the permanent has printed on it will be copied, including Creature and Artifact);
subtype (such as Plains or Gate);
supertype (the most common supertypes for lands are basic, legendary and snow),
rules text (don't forget that according to the rules, all basic lands have an innate activated mana ability);
power, toughness (printed ones!);
loyalty (I really doubt this one ever gets topical when copying lands).
Besides, copiable values may be changed by:
copy effects;
ability effects of the "as… enters the battlefield" and "as… is turned face up" type;
charateristic-defining ability effects;
effects prescribing an object to be put onto the battlefield face down.
Vesuva copying Thespian's Stage which in its turn is copying another land will enter the battlefield as a copy of that other land, and it will have the additional ability of Thespian's Stage, since this ability is granted to the land by the copying effect which alters its copiable values.
You may copy a Zoetic Cavern only when it is face up. Cast as a Morph, it is not a land, so it may not be legally trageted by Thespian's Stage's second ability.
Other effects (including effects that change type and text) do not alter copiable values. The permanent's state and counters are not copied!
Thespian's Stage becomes a copy of target land when it's already on the battlefield. Therefore, none of the copied lands' abilities that trigger when it enters the battlefield will trigger:
If you copy a Mountain, your Valakut's trigger doesn't go off no matter how many Mountains you control.
When you copy a Windbrisk Heights, Hideaway doesn't trigger.
Similarly, static abilities of the "as… enters the battlefield" type do not work; and all choices made for the original land when it entered the battlefield are not copied. For Thespian's Stage, these values are undefined.
Thespian's Stage that becomes a copy of Gemstone Mine does not get counters: it didn't enter the field a Gemstone Mine, it just changed its copiable values while already being on the battlefield.
When copying Cavern of Souls, you get a land with no defined choice. You may activate its second ability, but you won't be able to spend the mana to cast any creature spell.
Let us consider a few interesting situations that may arise when Thespian Stage's ability copies a land:
Do you have a plan to command the world?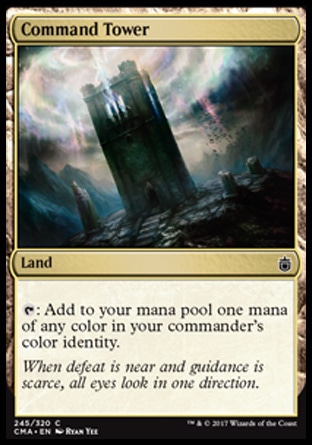 What if we copy a copy?
Let us consider a more complicated situation:
Now let us pull Blood Moon out of the binder:
If we go even further, we can make Thespian's Stage into a nonland creature!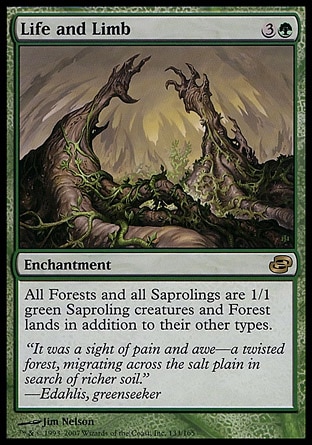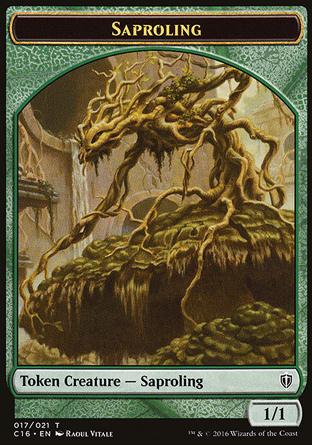 And the last scenario for today: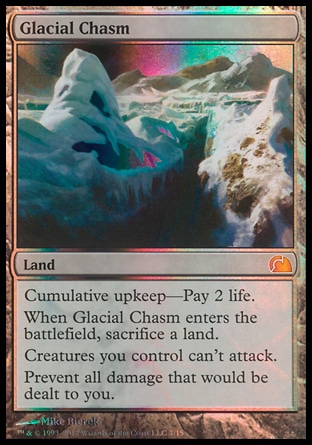 ---
⇑ If you deal with a land token, its copiable values are determined by the effect that created the token.
⇑ When copying Dryad Arbor, you might find yourself trapped by "summoning sickness": if you haven't controlled Thespian's Stage since the beginning of your most recent turn, you cannot activate any of its abilities that contain a tap symbol in the cost.
Translated by Witas Spasovski