What is Landfall and how does it work? Let us sort this out by taking Lotus Cobra as example. And while we are at it, we'll refresh our knowledge about mana abilities.
Lotus Cobra is a mythic rarity card. It doesn't mean anything in terms of the game mechanic. It is just harder to encounter such cards in boosters.
Landfall
Landfall, just as Heroic, is an ability keyword. The word "Landfall" on a card by itself means only that the rules text after this word will be related to a land entering the battlefield under your control.
In the first Zendikar block, Landfall appeared in two different forms: as triggered abilities and spell abilities. These two function quite differently, and it is therefore important to be able to tell one from another. To analyze that, let us have a look at how Landfall works on Steppe Lynx and Groundswell.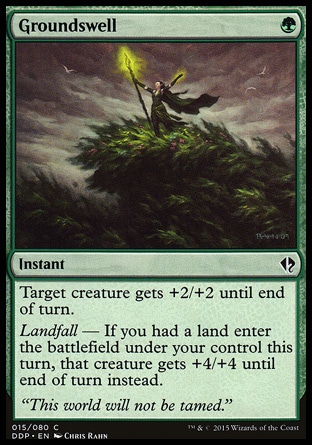 Lotus Cobra's ability is also a triggered one, so each land that enters the battlefield under your control gives you mana of any color off that trigger.
Despite the fact that Lotus Cobra's ability gives mana, it is not a mana ability. It is so because its triggered event is not activating a mana ability, but a land entering the battlefield under your control.
It means you don't receive mana at once. The cobra's trigger goes onto the stack and may be:
Only as the trigger resolves do you get the mana. The color is also chosen at resolution. If your opponent asks you about the color of mana, it means that he is passing in response to the trigger, and that it is already resolving.
Just as any other trigger, Lotus Cobra's one is easy to miss due to it not being represented physically. Since the Cobra's trigger supposes a choice at resolution, that choice must be voiced at that moment so that the trigger isn't considered missed.
Finally, in case you lived the last couple of years in seclusion, let me remind you that currently mana pools are emptied at the end of each step and each phase. If you get mana off the Cobra by putting a land onto the battlefield through Braids, Conjurer Adept's trigger, you cannot use it in your main phase, unless you also control Omnath, Locus of Mana besides Braids and the Cobra.
Battle for Zendikar set brought us a cycle of Retreats — Enchantments of each color with modal Landfall ability. Let us take a look at one to get a grip on these:
How does Landfall work?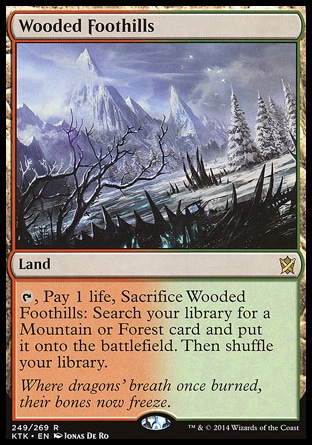 As soon as the trigger goes off and is put onto the stack, it becomes an independent object. Treacherous slaughter of the Cobra by your opponent does not change the fate of that trigger.
Since the active player is the one to get priority after a spell resolves, we may cast the Cobra in our hand, then immediately play a land and put the trigger onto the stack. The opponent will gain priority and will be able to respond only after the Cobra's trigger is put onto the stack.
Lotus Cobra is a great second drop that works as mana ramp and color stabilizing. It can charge into attack a few times while the table is empty, and naturally, it can always chump-block.
The cobra comboes well with Fetchlands, Harrow, Explore, Khalni Heart Expedition and Primeval Titan. You will most likely meet this reptile in Valakut decklists.
---
Translated by Witas Spasovski